Dr. Debra Edgar is the Director of Quality Telepractice, LLC, bringing over 25 years of experience as a Florida licensed and ASHA certified Speech-Language Pathologist (CCC-SLP). She holds her Doctor of Education degree in Curriculum and Instruction, Master of Arts Degree in Communication Disorders, Certificates in Professional Writing, Web Course Design, and Community College Specialization. Debra is the Clinical Supervisor at Brain Fitness Academy for over 13 years and is a Professor and Clinical Educator at the University of Central Florida for over 25 years.
Debra is the author of several peer-reviewed research publications regarding dementia, telepractice, and healthcare, as well as her latest article published in Perspectives of the ASHA Special Interest Groups Journal regarding The Effectiveness of Constant Therapy in the Treatment of Clients with Dementia and the Implications for Telepractice: Click here to view her article Regarding Telepractice.
In addition, Debra's book regarding Memory Care is in press and will be published in Fall 2021. She has extensive experience in all aspects of Teaching, Supervision, and Speech-Language Pathology. For over two decades, Dr. Edgar has provided skilled care for all ages, in a variety of settings including Telepractice; Skilled Nursing Facilities; Public Schools; Private Practice; University Clinics; and Hospitals. She is thrilled to be able to provide this service to reach those regardless of distance or disability.
---
Speech-Language Pathologists
---
Brittney, MA, CCC-SLP, is an Orlando-based Speech-Language Pathologist. She graduated from the University of Central Florida and holds a master's degree in Communication Sciences and Disorders. She has earned her Florida SLP Medical License and has been awarded her Certificate of Clinical Competence from the American Speech-Language-Hearing Association.
Brittney has been working in a pediatric private practice setting with children with various speech and language disorders for the last two years. She also has a passion for working with clients with dementia and other cognitive impairments. Brittney has held an internship position at Neurorestorative in Avalon Park where she treated client's with aphasia, traumatic brain injury, and spinal cord injury. One of the most fulfilling positions she has enjoyed is working with clients at Brain Fitness in Winter Park where she provided speech therapy under the guidance of Dr. Edgar as well as served as a facilitator for the Brain Fitness group for one year before starting her graduate studies.
Outside of work Brittney enjoys reading, crafting, and traveling with her husband, Christopher. She is a new mom and loves spending time with her son, Nolan. She looks forward to meeting you!
---
Stephanie, MA, CFY- SLP, is originally from Cooper City, Florida. She received her Master's Degree & Bachelor's degree in Communication Sciences and Disorders, with a minor in Exceptional Student Education. Stephanie has worked in various settings, all of which she has enjoyed. In addition to being a Teaching Assistant for an undergraduate Intro to Computers course for 5 years, during her undergraduate studies, she worked as a Preschool teacher at a K-8 school in downtown Orlando. After starting her graduate studies, and gaining experiences in a child care and classroom setting, she left the preschool to gain experiences in an adult setting as an in-home caregiver. Here, she discovered the values of helping and assisting adults in regaining their independence.
During her graduate studies, Stephanie's clinical experiences include many. She has provided speech and language therapy to children and adults at UCF's Communication Disorders clinic, at the Beyond Therapy Clinic in Hunter's Creek, FL, at a United Cerebral Palsy school in Pine Hills, FL, and for Lake Como Elementary School's Deaf and Hard of Hearing program. Although she enjoyed every experience she has gained, her favorite clinical experience was providing cognitive-communicative therapy to individuals with various types of Dementia, Aphasia, and cognitive impairments for the First United Methodist Church's Brain Fitness Academy program, alongside Dr. Debra Edgar.
Other than English, Stephanie speaks Italian and Spanish. She enjoys being able to utilize these languages in gaining insight into individual's entire language systems, if needed. She possesses multiple certifications in various areas. Along with possessing a micro-credential in Technology In The Classroom, she has certificates in Medical Speech Pathology: The Influence Of Body Systems On Cognition, Communication And Swallowing; Functional and First-Rate Aphasia Treatment: A Client-Centered Approach; Oral Hygiene Programs: Oral Care Is Critical Care, and Department of Children and Families Pre-school certifications. She looks forward to meeting and working with you!
---
Jennifer, MA, CFY- SLP, received her Master's Degree & Bachelor's Degree in Communication Sciences and Disorders at UCF. Throughout college Jennifer worked at CapTel where she captioned phone calls for individuals with varying degrees of hearing loss.
She interned at a private practice where she provided speech, language, and voice treatment to children with medical conditions including Autism Spectrum Disorder, Apraxia, and Down syndrome. During her graduate school experience, she attained experience working with adults in the Intensive Comprehensive Aphasia Program at UCF's Aphasia House. Here, she developed and implemented a comprehensive, cohesive diagnostic and treatment plan rooted in evidence-based practice for a patient with a range of acquired neurological damage. She also gained clinical experience at Brain Fitness Academy where she developed and implemented diagnostic and treatment plans for individuals living with Mild Cognitive Impairment and early dementia, providing a therapeutic environment for engaging in brain healthy activities and learning lifestyle adaptations. Additionally, she had the opportunity to trial AAC systems and applications with an individual that suffered a traumatic brain injury at UCF's FAAST Center.
---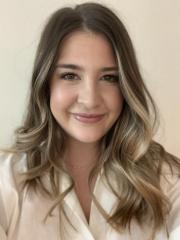 Regan, M.A, CCC-SLP was born and raised in Winter Park, Florida and continues to serve the Orlando area for speech, language, and cognitive disorders. She graduated from the University of Central Florida with her Bachelor's and Master's degree in Communication Sciences and Disorders. She has recently been awarded the Certificate of Clinical Competence from the American Speech-Language-Hearing Association.
Regan spent her Clinical Fellowship Year (CFY) serving Deaf and Hard of Hearing students at a PreK-5 school in Tampa, Florida. She has held an internship at a K-8 Deaf and Hard of Hearing school in the downtown Orlando area. Some of her favorite graduate internships were treating clients with dementia and other cognitive disorders at the Westminster Skilled Nursing Facility as well as working with Dr. Edgar at Brain Fitness in Winter Park.
Regan enjoys spending her weekends on home-improvement projects and quality time with her family and dog, Toby!